Hat Designer / Director of her own brand 'honoyo'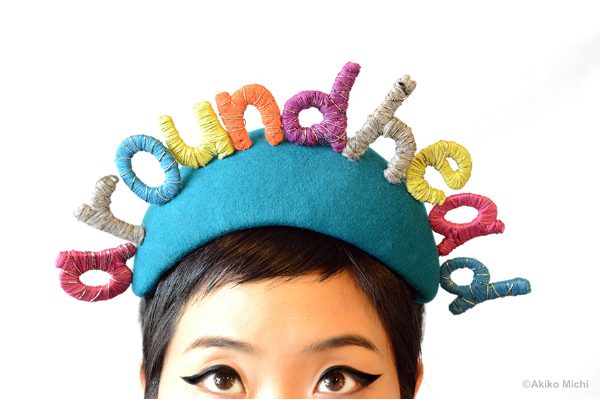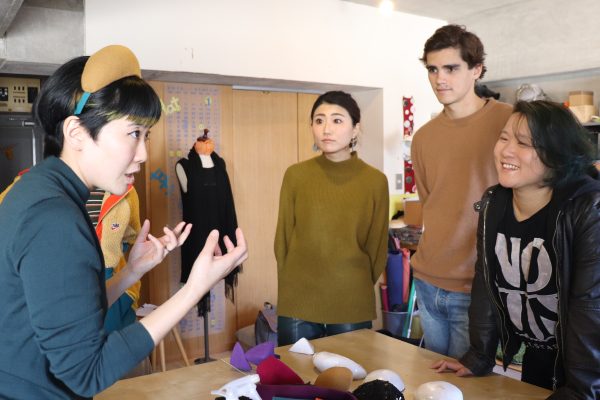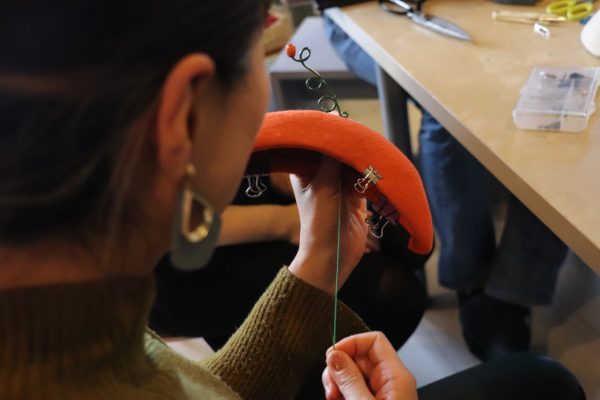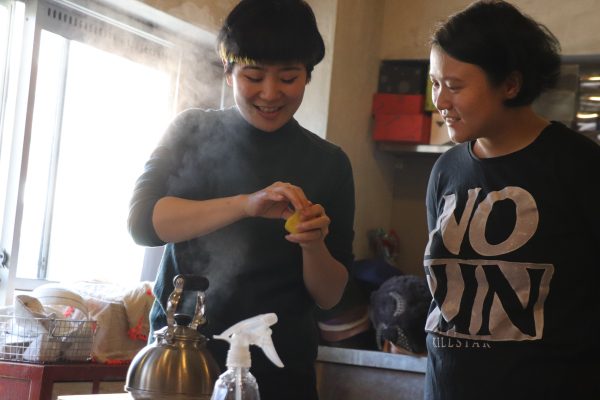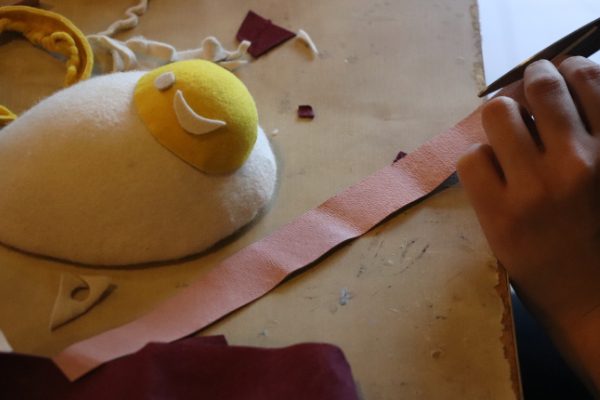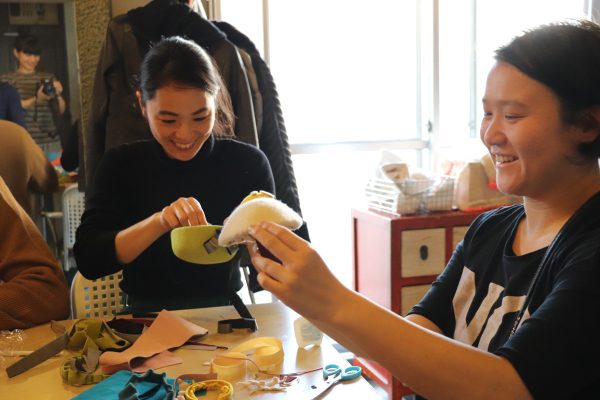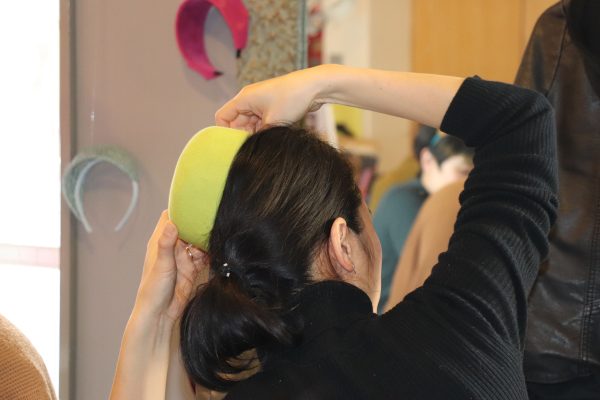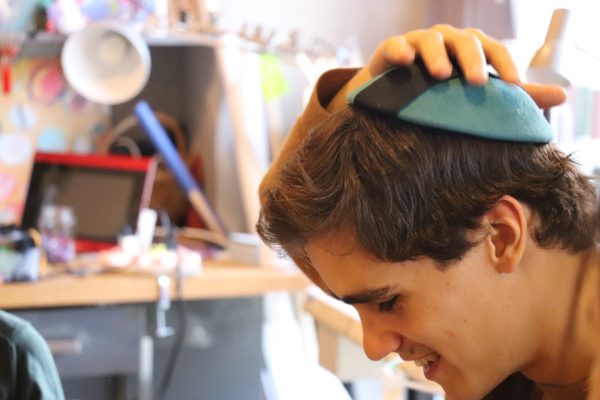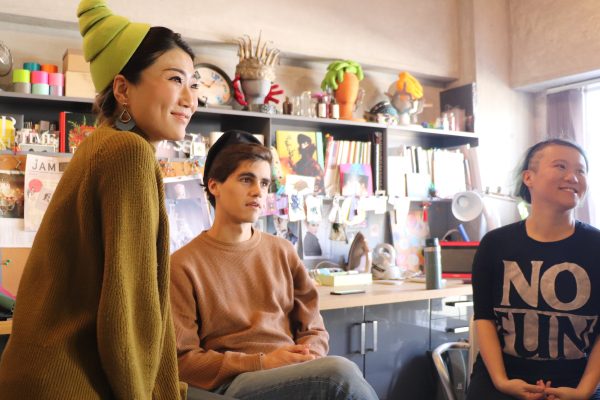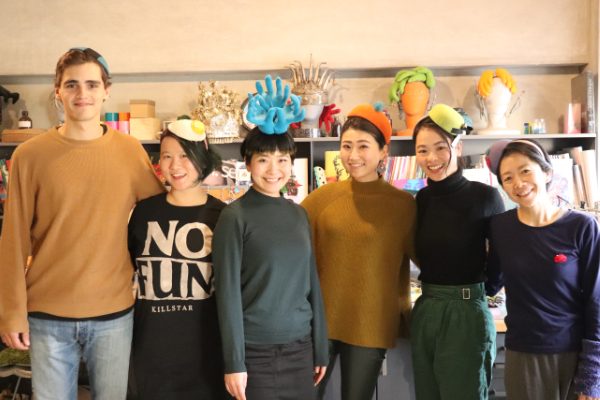 She is a hat designer, although she does not design a hat. She is an artist who designs artworks that aren't limited to hats but anything around a head(headpieces).
Shibuya is a city where has a theme of "Gender Equality and Diversity". Honoyo grew up here and still now she gets inspirations from people, objects, buildings, sceneries whatever she sees in this city, and applies into one headpiece as her artwork. If we walk Harajuku Cat Street where she looks for new ideas daily, she would share her memories with us like "my mother used to buy my baby food here."
If you walk through the crowd of the world famous Shibuya scramble crossing, and walk a while, then you will find Honoyo's studio where is nice and quiet. "Hi, please come in!" She always welcomes us with such bright energized voice. When you go inside, so many things would jump into your eyes such as her artworks, colorful materials, a giant metal headpiece that she fell in love with and bought while traveling, or some pictures for her inspirations. The space is filled with excitement and the atmosphere is literally an "artist's studio".
Honoyo was born between a father who is an architect, and a mother who is a clothes designer. I was surprised by the fact that her studio is also homemade. When we talk with her, often time she says she hates losing any of her game which she also says that "it's DNA". When she just started her career as a hat designer, she won 'The HAT Designer of the Year' in 2012 with her artwork 'OMIKUJI' which uses Japanese traditional paper as the material. Her "Hat" was acknowledged by the contest where hat designers from all over the world competes. The other time, her 'metal collection' was chosen to wear by Lady Gaga. This time, the material was metals that were supposed to be scrapped. She says "I was lucky". However, I felt that those episodes really tells her passion and style that Honoyo always fully dedicate to fight her game. Also the fact that she changes papers or scrap material into her way of expression is really Honoyo style.
Assuming she grew up with the parents who handmade everything, she says "I can make what I see. The thing I buy is what I cannot make". She hopes that the participants would experience to find a joy of hand making process through her Interlude program.
I believe that the amazing and fascinating thing about Honoyo's artwork is the surprise of "What is this? I have never seen before". Once she told us, "Would it be interesting to put this on my head? How would be people be surprised?" are the main things in her head while she looks for ideas and takes a walk in Shibuya. And continued, "I feel like I won when people stop for even a moment to look at my head(wearing her artwork)" while smiling mischievously. Yes, she got me because I was also like that when I first met her.
Do I have to design hats because I am a hat designer? I cannot make something because people usually buy them? The artist, Honoyo makes what she wants to make. She constantly fights over the ideas such as normal / ordinary / general / common sense. She puts on her head what she sees! You will discover the root of this Honoyo style while walking into Shibuya and facing your "ordinary" to make a headpiece as your artwork.
Are you satisfied with just taking a photo at the scramble crossing? That could be boring. A half day to meet the artist, Honoyo Imai and fight against your sense of ordinary while you feel the city, Shibuya.
(Producer Yoshiko Shrestha)
■Schedule
09:30 Meetup at Shibuya station 
10:00 1st Half
12:15 Lunch
13:15 2nd Half
15:30 End of the Day


If you are interested, please fill this form. We will contact you shortly.
[contact-form-7 id="1575" title="Program honoyo imai"]
By using this form, you consent to the storage and handling of your data by this website.